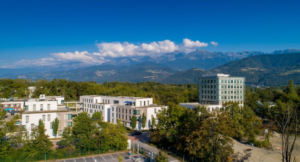 We are thrilled to announce that we are transitioning our site to a new location. As of now, we'll be located at Inovallée, Meylan; near our previous office in Grenoble.
We're heading to this new location to:
– provide more space for our growing team
– expanding our lab capacities for our experimental activities
– build and operate the first full-scale continuous mRNA-LNP production system
– Welcome our customers at our innovation center
Inovallée is a science park which house numbers of Healthcare companies such as Merck Millipore, Roche Diagnostics, Kayentis, Remedee Labs, Corin, Abiolab.
Inovallée also benefits from the close proximity of the Université Grenoble Alpes, Grenoble Institute of Technology (Grenoble INP) and the Polygone Scientifique.